Jeremy Flores Makes History in France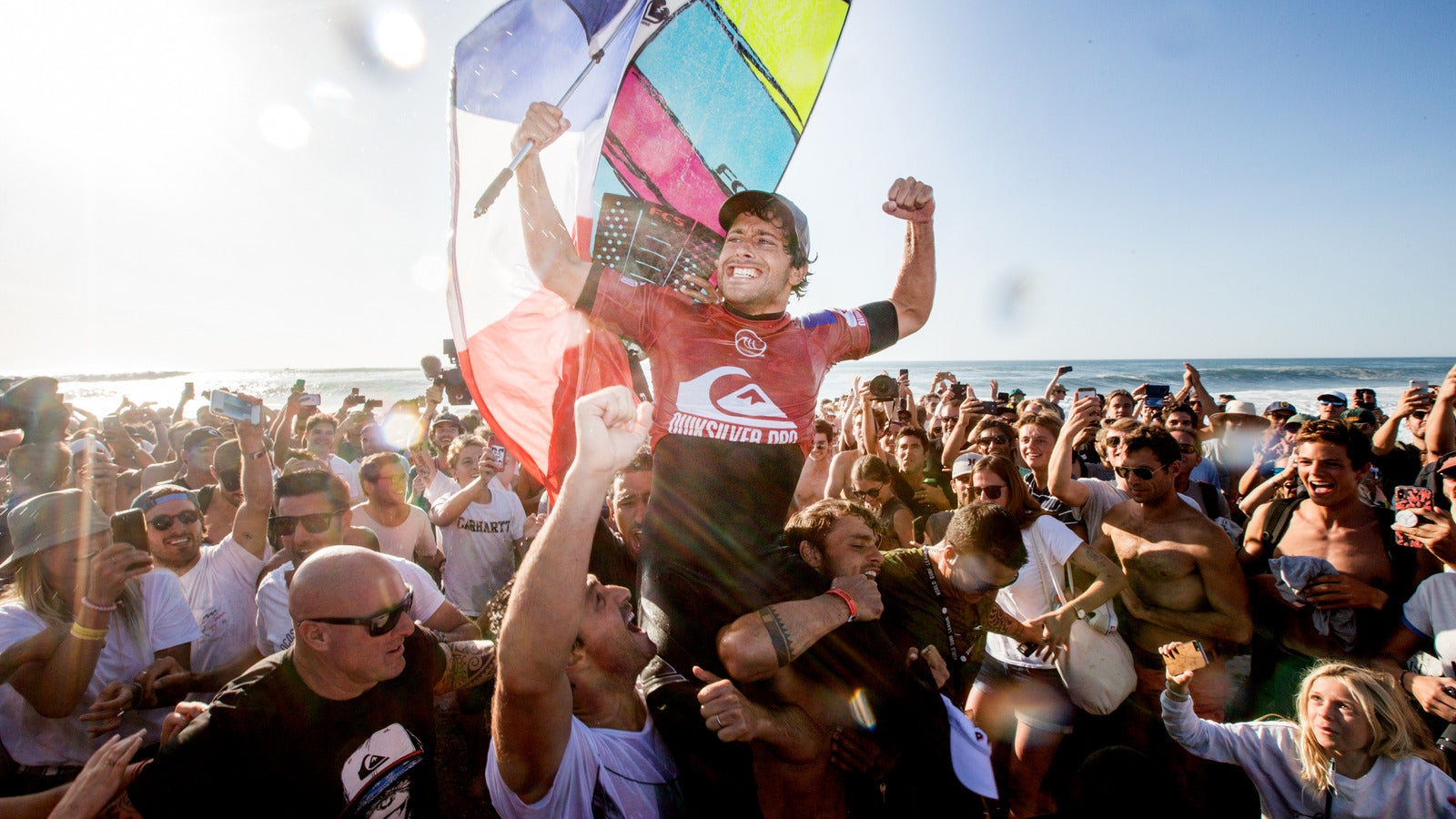 Jeremy Flores has won the 2019 Quiksilver Pro France in historic fashion today, claiming victory in the Final bouts against Italo Ferreira in firing surf at the infamous La Graviere tubes.
"I really want to thank all the fans here on the beach," said Flores. "You have always been there supporting me, all those years, through the highs and lows, and I honestly could never have done this without you. I'm dedicating this win to Pierre Agnes, without whom I would never be who I am today."
Local hero Jeremy Flores claimed a historic first win for a French surfer at the Quiksilver Pro France in his 14th appearance on home soil. Hailed as one of the best tube riders in the world, Flores demonstrated the immensity of his talent under the lip on Finals day today, locking in big numbers in four consecutive heats with barrels on his way to victory.
"Congrats to all the finalists today," he continued. "I honestly thought the day I win this event I'd retire straight after because that's the one event I have dreamt of winning. But this feels a little early and I'll be back next year to try and win another one!"
The Frenchman claims a career-fourth CT event win in the beach breaks that revealed him to the world and moves up to 9th on the Jeep leaderboard with his performance in Hossegor. His path to the Final today included victories over World No. 3 Jordy Smith, last year's event runner-up Ryan Callinan, Jack Freestone and Ferreira in the last heat. Flores repeatedly found the best waves in his home lineup and posted huge numbers for his technical tube rides.
In the Final, Flores once again pulled the trigger first with a near-perfect barrel scored 9.67 in the opening three minutes of the exchange. Under pressure right away, Ferreira couldn't quite select the right waves and despite a few attempts, only had minimal scores on the board for the majority of the heat. His required score of 9.51 to overtake Flores meant the Brasilian was never met and Ferreira had to settle for the runner-up spot.
The day's biggest upset was the current Jeep Yellow Jersey Gabriel Medina's elimination in the Round of 16 this morning, the Brasilian's worst-ever result in France, an event he's won three times and made the Final five times. The Brasilian still retains the rankings lead heading into Portugal and Hawaii, two events he has won in the past as well.
The next stop on the 2019 CT is the MEO Rip Curl Pro Portugal, which holds a competitive window from October 16 - 28, 2019 and will for the first time ever feature both men and women.
Photo © WSL / Masurel