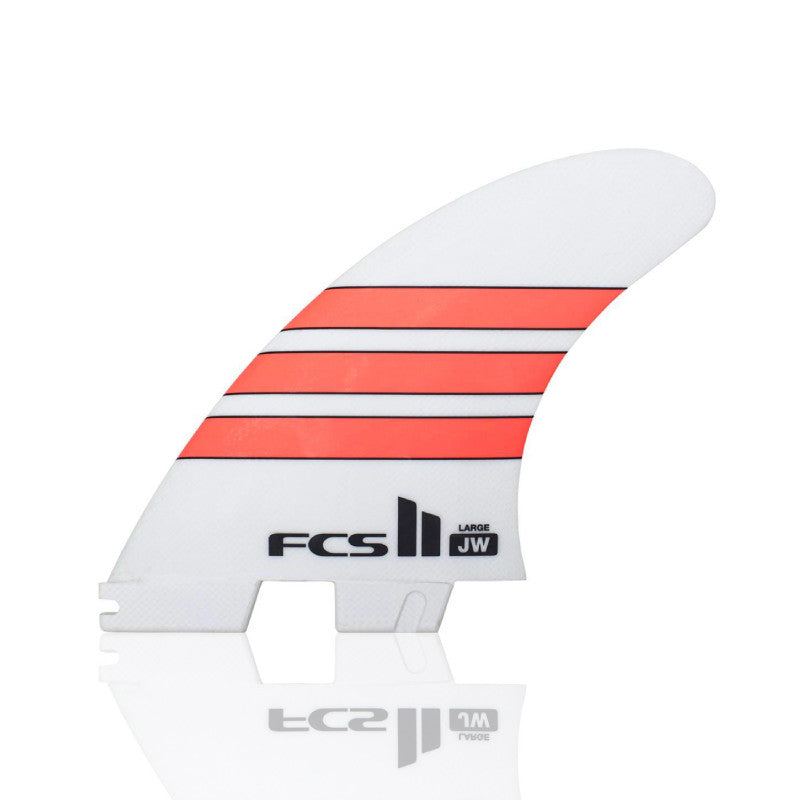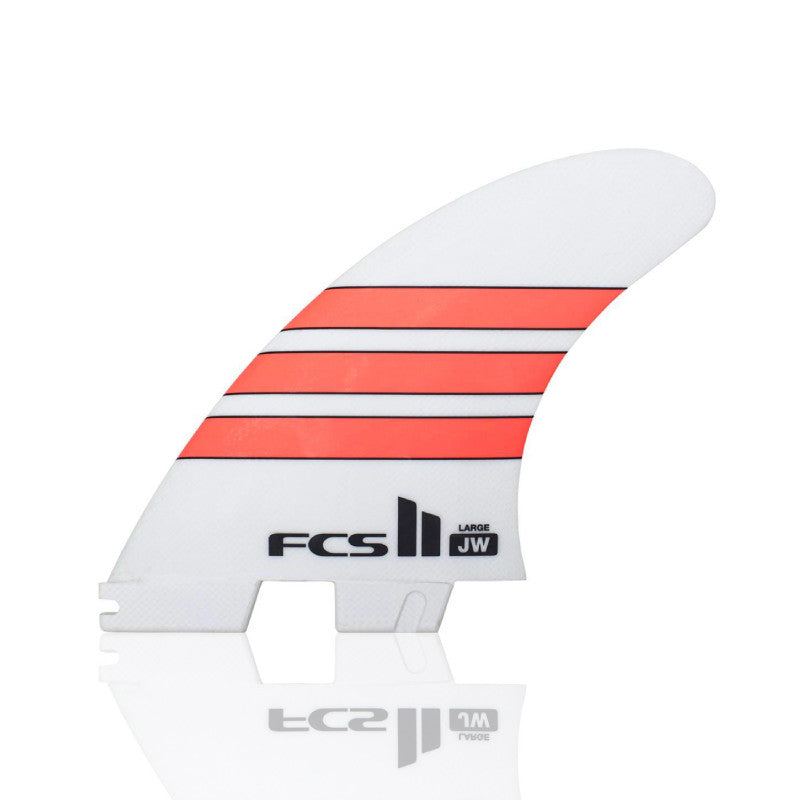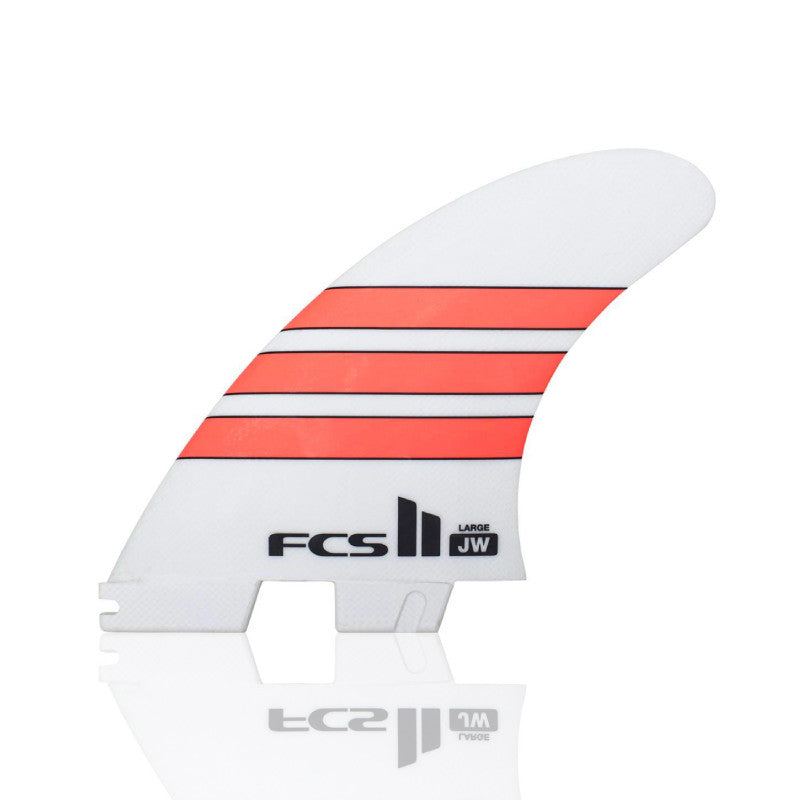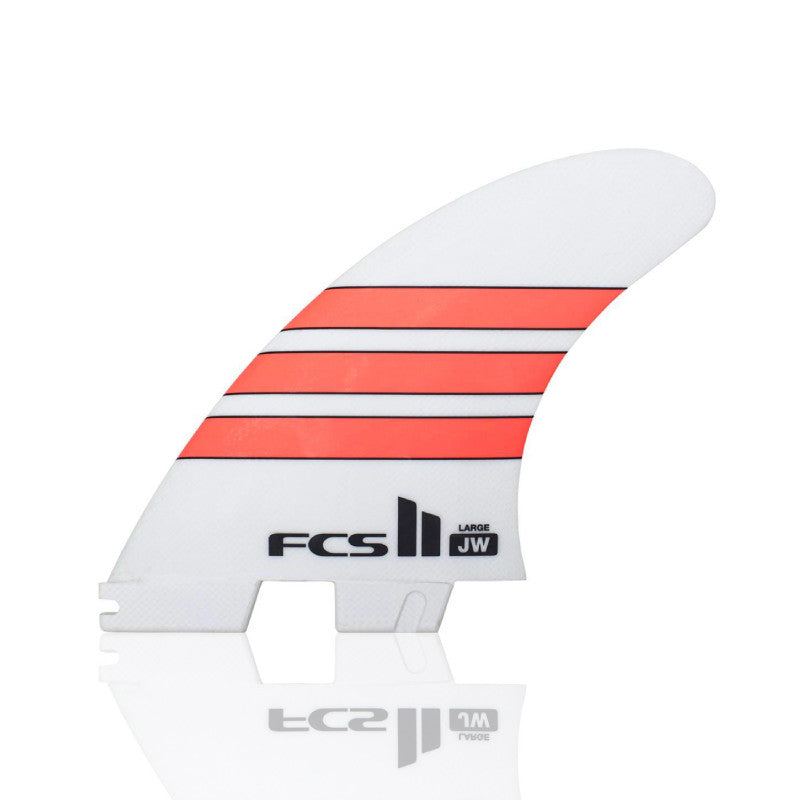 FCS II JW PG Tri Fin Set
Ideal for open face, down-the-line waves, particularly good in point and reef breaks.
The characteristics and flex pattern of Performance Glass (PG) are identical to traditional fibreglass fins offering a stiff base with subtle responsive tip flex, amazing aesthetics and proven durability. PG fins are the perfect transition fin for surfers moving from fixed fins to the convenience, accuracy and performance of FCS.
Designed to fit the FCS II System. Recommended for performance boards with deep concaves and moderate-to-extreme rocker.
When the original FCS JW template was designed, Julian needed a fin for beach breaks that delivered tight turns and tail release. Now with a stronger body, more power in his surfing and a focus on the WSL tour locations, his new signature fin focuses more on speed, projection and control. The full base and the super responsive Performance Glass material creates instant speed off the mark, the high sweep offers exceptional projection down the line, and when setting up airs, and the curved trailing edge produces a smooth, yet controlled feel through longer arc turns. Available with new bright graphics that pair back to his signature traction pads. Refresh your surfing!
Fin Data

Grom (Under 45kg)

Tri Fin

Base: 4.10" / 104mm




Depth: 4.19" / 107mm




Area: 12.81"² / 8264mm²




Sweep: 35.8º




Foil - Side Fins: 80/20




Foil - Centre Fin: 50/50

Medium (65kg - 80kg)

Tri Fin

Base: 4.46" / 113mm




Depth: 4.56" / 116mm




Area: 15.13"² / 9763mm²




Sweep: 33.3º




Foil - Side Fins: 80/20




Foil - Centre Fin: 50/50

Large (75kg - 90kg)

Tri Fin

Base: 4.57" / 116mm




Depth: 4.67" / 119mm




Area: 15.91"² / 10262mm²




Sweep: 35.8º




Foil - Side Fins: 80/20




Foil - Centre Fin: 50/50