Caroline Marks and Filipe Toledo Win 2023 World Title at Rip Curl WSL Finals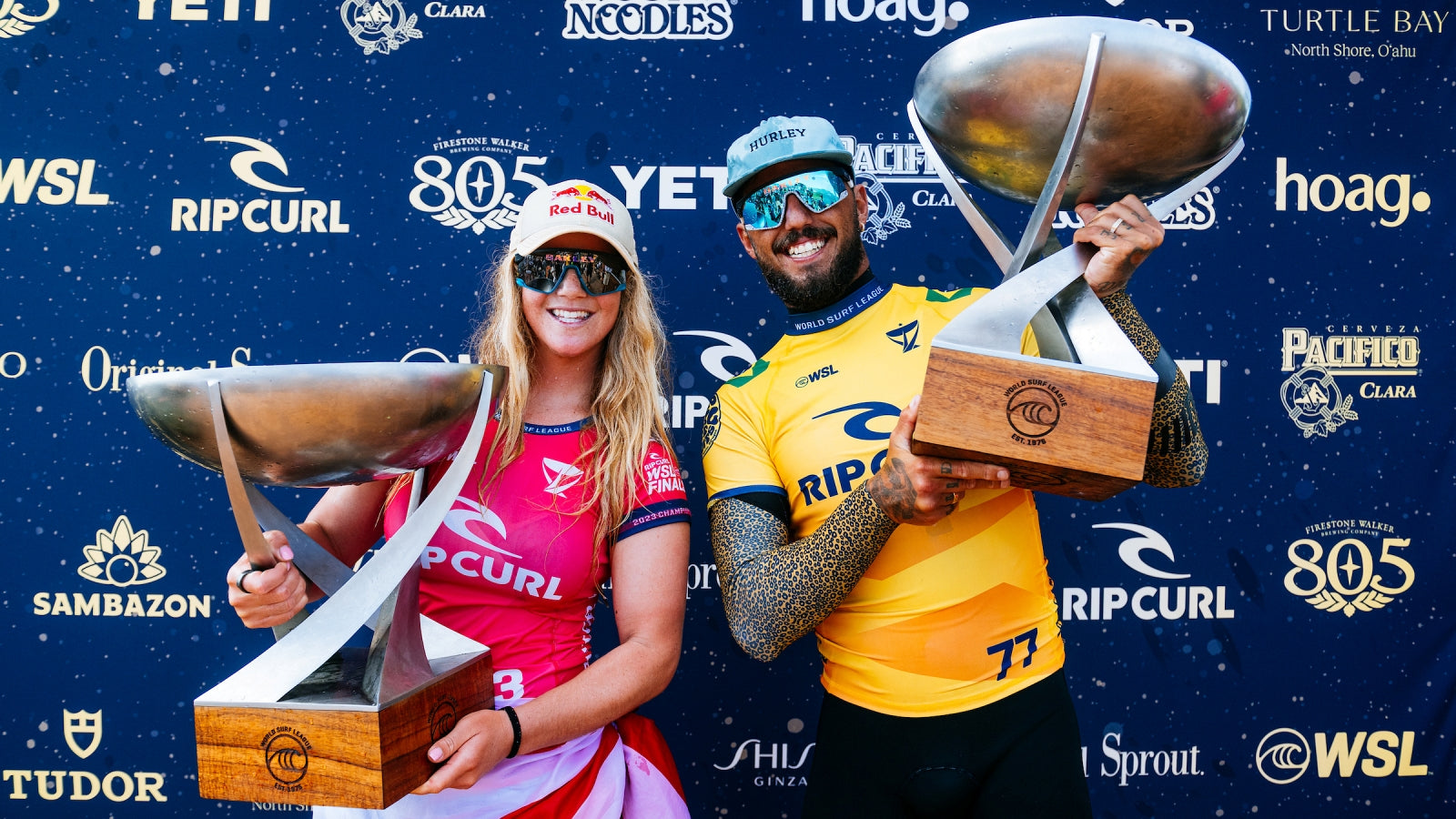 FCS team riders Caroline Marks (USA) and Filipe Toledo (BRA) have won the 2023 World Surf League (WSL) World Titles at the third-annual Rip Curl WSL Finals in solid four-to-six foot (1.2 - 1.8 meter) conditions.
Caroline entered her first Rip Curl WSL Finals as the No. 3 seed and left as the 2023 Surfing World Champion. She is the first person to win a World Tile for mainland USA since Lisa Andersen in 1997. This also marks the first women's goofy-footed surfer to claim a World Title since Chelsea Georgenson (AUS) in 2005. The Floridian felt at home at Lower Trestles posting multiple excellent scores and near-perfection throughout the day en route to her maiden World Title. Today's brilliant performance also confirmed her provisional qualification for the Olympic Games Paris 2024.
Fellow FCS team mate Carissa Moore's dominant run through the 2023 season culminated in clinching the No. 1 seed going into the Rip Curl WSL Finals for the third-straight year. The five-time World Champion started her season with a massive win at the Billabong Pro Pipeline. She then earned back-to-back wins at Margaret River and the WSL Surf Ranch. But, her redemption run toward a World Title was cut short by an in-form Caroline.
"It's just so inspiring to have my name up on that list. This has just been a goal of mine. World Champion, it's crazy. I went through a weird one last year, and I was doubting myself. This just feels so good. I really don't know what to say, I've been really emotional this year. This feels like a lot of emotion." — Caroline Marks
Filipe earned his second-consecutive World Title today, once again proving himself as the competitor to beat. He is now the first competitor to earn back-to-back World Titles since John John Florence (HAW) in 2016 and 2017. The Brazilian competitor was unstoppable in the 2023 CT season, accruing wins at Sunset Beach, El Salvador, and J-Bay.
"It's so hard to put into words what it took for me to be here right now," said Toledo. "So much sacrifice. A lot of sacrifice, to be honest. Seven years ago, I had my first kid. I wasn't at home too much to be there with my wife. Neither was I there for Koa as well. I knew in the long run, this was going to pay off. This is a dream come true. I don't think there's ever been a Brazilian that won back-to-back. We like to make history. I'm super thankful to God. He blessed me all the way here. It was not easy." — Filipe Toledo
Photo © WSL / Thiago Diz