Filipe Toledo Claims 2nd Oi Rio Pro Title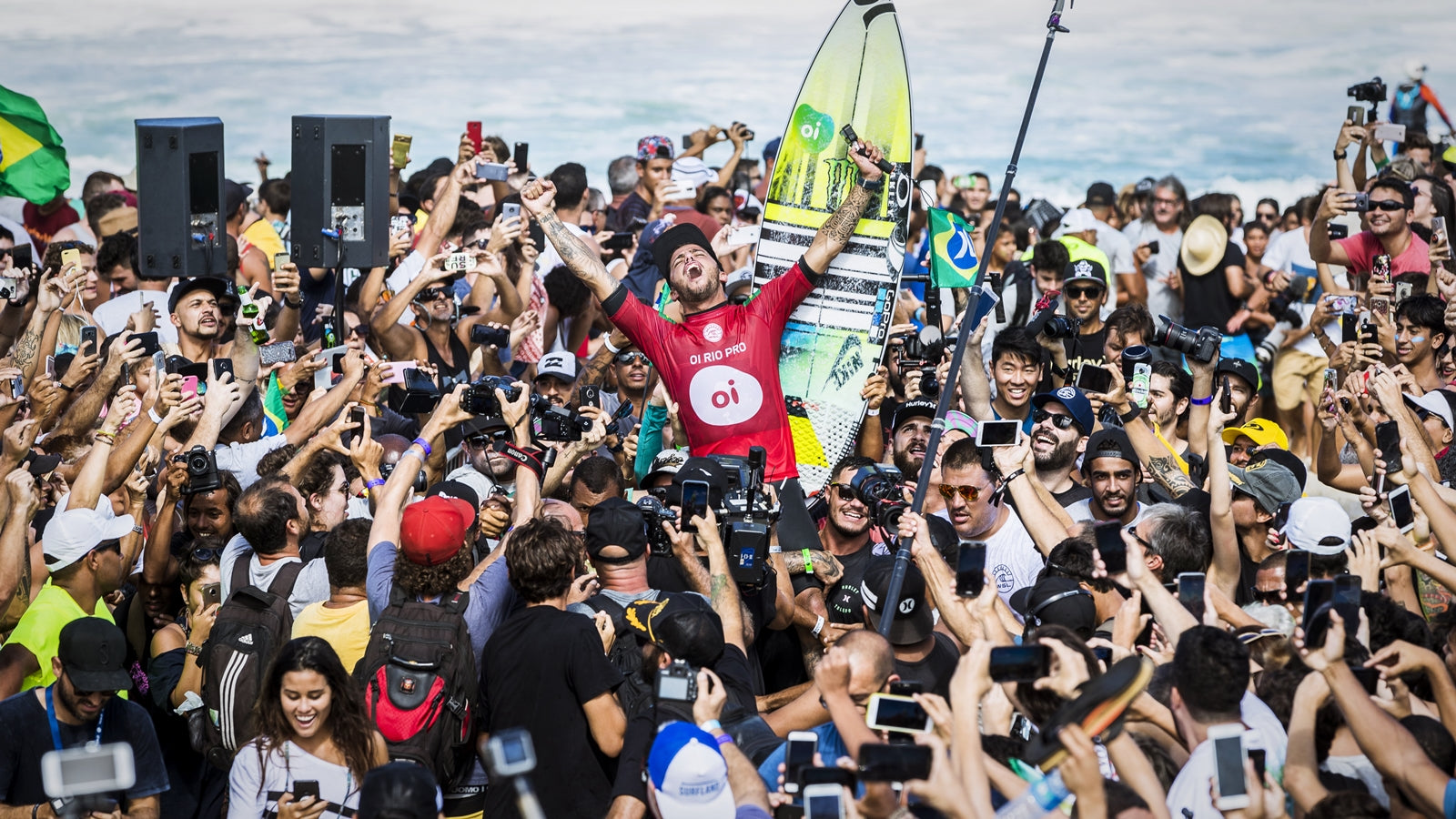 Congratulations to FCS Athlete Filipe Toledo (BRA) for claiming his second Oi Rio Pro victory!
Toledo took home the Oi Rio Pro win today in front of a capacity crowd at Barrinha in Saquarema after defeating 2018 CT Rookie Wade Carmichael (AUS) in the Final.
The win catapults him from 9th to 2nd place on the Jeep Leaderboard, putting him well in the World Title conversation at the tour's halfway point.
"It is emotional to win here in Brazil in front of this crowd," said Toledo. "Coming back home and having this amazing support from the crowd, especially for my baby Koa, it is unbelievable. My son and my family are motivation for me. I am one of those athletes who performs well under pressure. Koa means warrior and I definitely was a warrior to go out there and get that trophy."
Toledo delivered incredible performances throughout the Oi Rio Pro with wins against Carmichael in the Final, Julian Wilson (AUS) in the Semifinals, and Kolohe Andino (USA) in the Quarterfinals. Toledo was also the first and only surfer to score a Perfect 10 at this year's Brazil event. The 23-year-old, who has yet to lose in a Final, will now head to Bali only 1,340 points behind Wilson.
"The Final is a win or it is a second," continued Toledo. "It is the last heat and the last chance. That is what I put on my mind. It is time, the big show, my stage, and my passion. I think Barrinha the last few days has been amazing, and I've been training here since I've gotten here. It was amazing to surf over here."
2018 WSL Men's CT Jeep Leaderboard (After Oi Rio Pro):
Julian Wilson (AUS) 19,415 pts
Filipe Toledo (BRA) 18,075 pts
Italo Ferreira (BRA) 14,995 pts
Gabriel Medina (BRA) 14,160 pts
Wade Carmichael (AUS) 13,585 pts
The world's best surfers will now head to Keramas for Stop No. 5 on the WSL CT, the Corona Bali Pro, which holds a competitive window from May 27 to June 9, 2018.
Photo © WSL / Damien Poullenot