Fu: The True Story Of The World's Greatest Surf Wax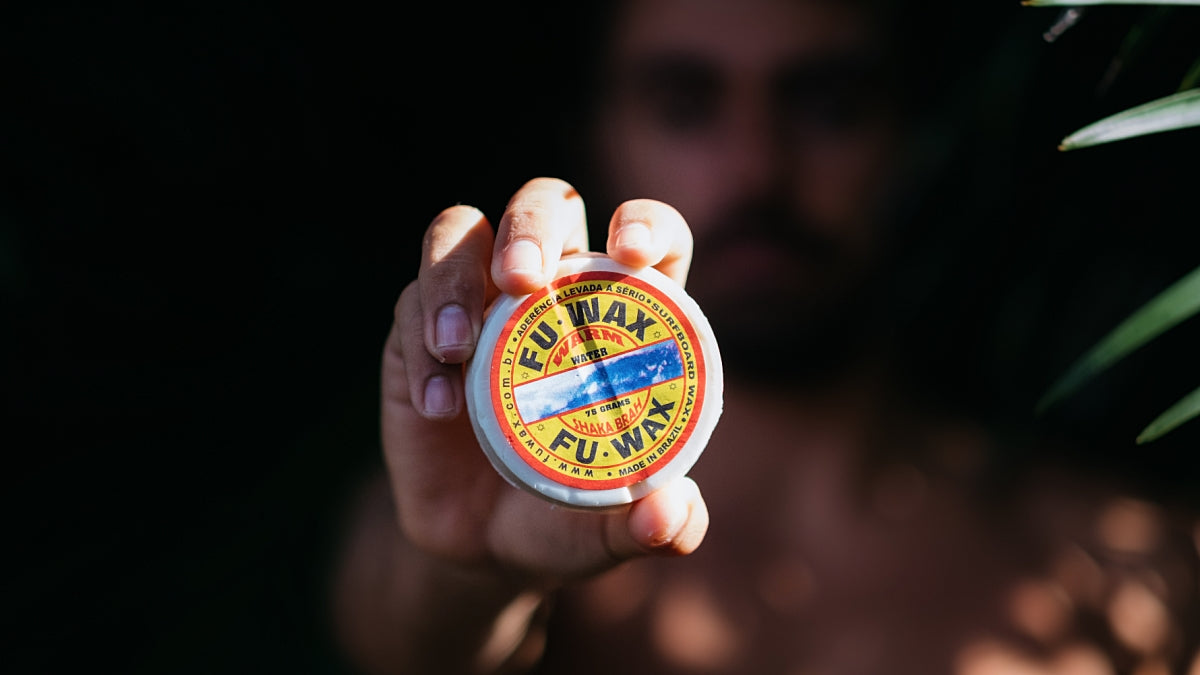 Fu Wax - The World's Greatest 'sticky icky'.
Photo: Sam Moody
---
Story by Michael Ciaramella / Stab Magazine.
---
How a happy accident in Brazil became your favorite surfers' wax of choice.
Following the Stab Wax Test, Michael Ciaramella was curious to learn more about the infamous Fu Wax from Brazil. This is their story as told by its founder, Fuad Mansur, with help (read: translation) from his son Guilherme.
According to the creator of Fu Wax, Fuad Mansur, there was a distinct lack of surf shops and supplies during his childhood years in 1960s Brazil.
This meant that if you wanted to surf, you had to shape your own boards, fasten your own boardshorts, and make your own wax.
And Fuad wanted to surf.
Like many surfers before them, the Mansur brothers of Fuad, Wady, and Elias started making a paraffin-based wax for their surfboards at home. After several years of tinkering in their grandparents' garage, the boys realized that their paraffin solution was too slippery and ultimately dangerous to apply.
Then in the early '70s, Fuad, whose obsession with surfing made him determined to create a superior surf wax, decided to consult a chemist about the situation. After much contemplation, the chemist told Fuad about a secret material he should try in the construction of the paraffin base.
Fuad and his crew of wax-obsessed Brazilian brothers. 1968.
With this new knowledge, Fuad was able to create a more suitable – but not nearly perfect – bar of surf wax, which led to the creation of the Fu Wax* brand. This was also the impetus behind Brazil's first surf shop, created by Fuad and his brothers, called Mansurf. (Like their last name, Mansur, with an 'f' for cultural appeal)
Despite this, Fuad remained unsatisfied with the product. Between 1973 and 1987, he committed his life to creating a premium bar of wax.
The Fu Wax Group, which consisted of the three Mansur brothers and two of their employees, literally lived in the wax lab. They spent each day creating 3-5 unique bars which would be quality-tested at day's end. The Mansur brothers used a 0-10 scale to grade their daily creations, and for nearly two decades of this daily labor, their bars rarely surpassed a three.
The Mansur bros were a long way from topping the global wax pyramid.
Photo: Sam Moody
After 20 years of failed wax research and with no other form of employment, by 1987 Fuad had blown through his father's inheritance, largely on the childhood fantasy of creating a perfect surf wax.
Then, with Fu Wax on the brink of bankruptcy, there was an accident in the lab. A raw material melted before its expected tipping point, leading to a premature liquification that would severely alter their wax solution.
This accident, by some infinitesimal chance, produced a paraffin that was ideal for surfboards.
After a successful beta-run in Brazil, the Mansur brothers decided to put this solution through the ultimate wax test – a surf in the freezing waters of Patagonia.
They traveled 1,600 miles with just three 80-gram bars of the new, accidental solution. On his first wave, Fuad felt a sense of grip and security he'd never experienced before. Entranced by the sensation, he surfed until well past dark, eventually collapsing with hypothermia and being hospitalized for two days.
During his time in the infirmary, Fuad developed a slogan for his new creation: Tack Taken Seriously.
The new Fu Wax was a 10/10.
Fuad (bottom) and Yso Amsler, testing bar #364028.
Now possessing the perfect product, it became Fuad's job to market his creation across Brazil.
Fuad started handing out wax in all of what Fuad calls Brazil's "surf ghettos"—Ubatuba, Saquarema, Guarujá, Florianopolis. He gifted bars to other notable Brazilian surf families.
Ex-CTer Fabio Gouveia (yes, Ian's dad), Ricardo Toledo (yes, Filipe's dad), Wagner Pupo (yes, Miguel and Sammy's dad), Picuruta Salazar, and Paulo Mattos were some of the first Brazilian pros to use Fu Wax.
It's believed that older Brazilian pros kept Fu a secret from their international peers, as to maintain a slight competitive edge; Fu did not reach international markets until decades after its inception.
It would be ages before Westerners encountered this magical goo from Brazil called Fu Wax.
Kelly Slater first got his feet in the Fu back in 2011, which led to an unforgettable moment in surf history.
Surfing against Taj Burrow in the Quiksilver Pro New York semifinals, Slater found himself needing a 9.3 to overtake the on-fire Aussie.
Due to swell direction, the competition zone primarily offered long, running lefts and the odd wedging right. Throughout the day, the vast majority of scores came from lefts, which offered more space to connect multiple maneuvers.
Holding priority with just a few minutes on the clock, all Burrow had to do was block Slater on the lefts to secure a finals berth.
…Or so he thought.
Under Burrow's nose, Slater swung on a right that could only be described as a complete and utter closeout. Slater gave a couple pumps toward the end section and flung himself at the beach, rotating over his board and performing a full 360 in the air.
A moment never to be forgotten, thanks in part to Fu Wax.
Photo: ASP / Rowland
With little more than his toenails gripping the wax, Slater disappeared into the whitewater then quickly emerged, somehow still on his feet and with two arms above his head.
Slater got a 10.
Taj couldn't believe it.
"He's just lucky he did the best air of his life," Burrow said, only half-jokingly, in a later interview.
Little did Taj know, he was most likely the culprit of his own undoing.
Kolohe Andino was an early adopter of the Fu, inadvertently bringing it to the forefront of the surfing world.
After hearing rumors of Taj – who had been turned onto Fu Wax by Californian phenom Kolohe Andino ("It's so good, it feels like it's just goo'ing everywhere!") – hauling 20 kilos of the stuff back home from Brazil, Quiksilver had commissioned Fuad to create a special batch of wax for the competitors of their New York event. This led to Slater using Fu Wax before his Big Apple heat (sans-traction pad, no less) and stomping his infamous Hail Mary punt (the first of several in his later career).
At this point, Fu Wax started to become a household name in the western surfing world, despite the fact nobody could get their hands on it.
U.S. consumers didn't have access to Fu until late 2011, when after seeing its effect on Slater in New York, Quiksilver's Chad Wells convinced Fuad to bring his product Stateside. Fu sent his son Gui to work with Chad to develop the brand in America, which has since shown steady and significant growth over the past seven years.
Fu Wax also went to Japan in 2012 (through a man named Koji Nishi) and Australia in 2014 (through One on One Global, in Lennox Head).
Nowadays, Fu Wax can be found at major surf shops in all three of the countries above (and of course Brazil). The international rate for a block of Fu is $5 USD, or $4 in Brazil, where it remains the nation's most popular surf wax.
Fu Wax is likely to be found under the feet of the world's premier surfers, including (but certainly not limited to) Kelly Slater, Dane Reynolds, John John Florence, Koa Rothman (who forsakes his father's own Da Hui blend in pursuit of Fu), and literally the whole Brazilian CT contingent. Slater provides Fu Wax for his visitors at Surf Ranch. Despite its current ubiquity, surfers continue to horde their gluey bars from friends, family, and competitors alike.
"It's like drugs or something," Kolohe Andino said in 2011. "You have to have it."
Dane Reynolds used Fu and only Fu in his filming of the Electric Acid Surfboard Test.
Photo: AVG
To this day, Fu Wax remains 100% hand-made by Fuad, Tuca, and Guilherme Mansur, who are the only three people in the world that know the secret formula.
Currently all Fu Wax is still produced in Brazil, but Fuad is planning to open a factory in San Clemente or Costa Mesa sometime in 2019. You can purchase Fu Wax here:
*It was named Fu Wax rather than "Mansur" (or some derivative of such) because of the increased time, money, and effort Fuad put into the project in relation to his brothers.