Gabriel Medina Claims 2nd World Title & 1st Pipe Masters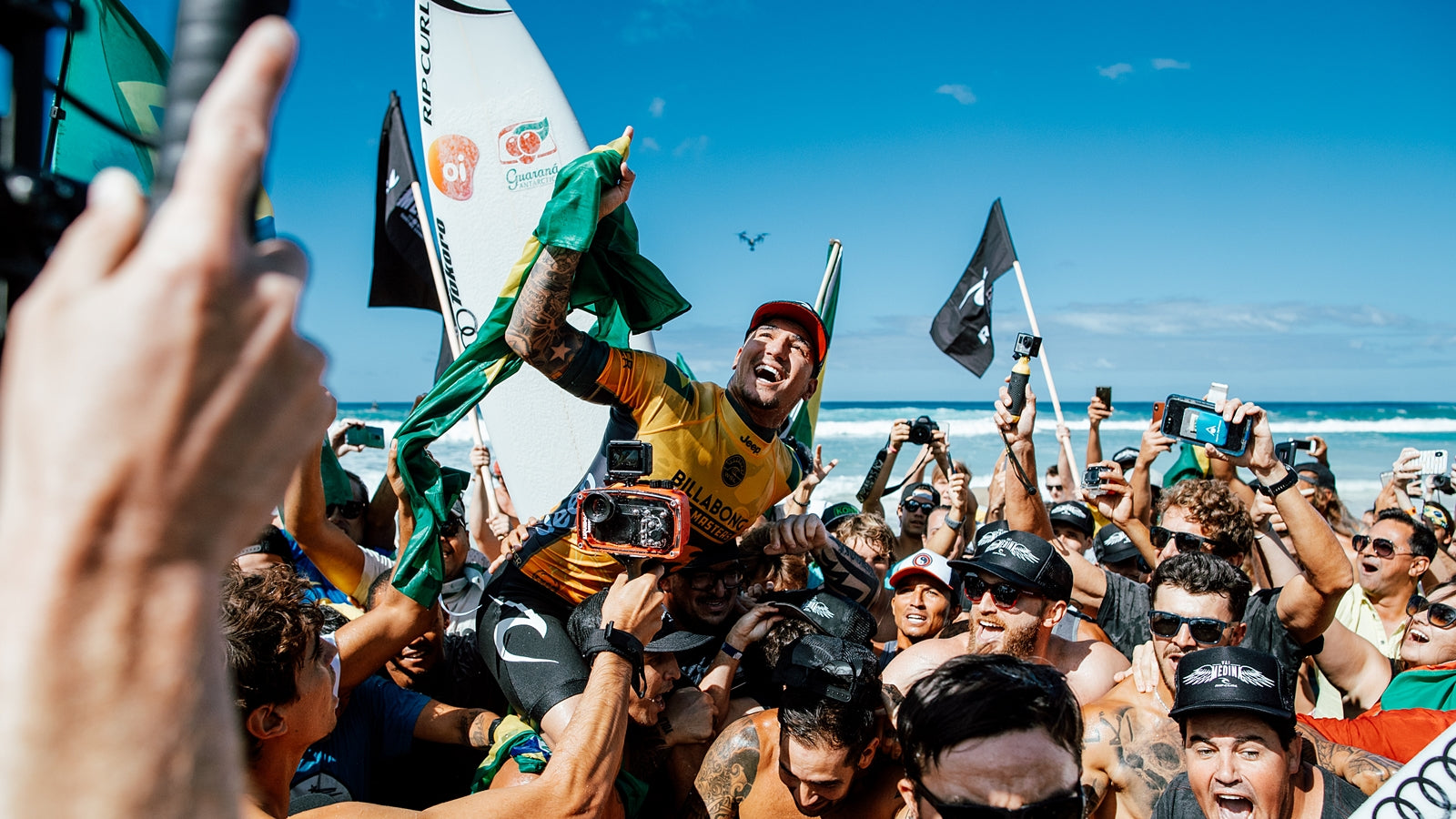 Photo: Sloane / WSL
Gabriel Medina (BRA) claimed his second World Title with a win at the Billabong Pipe Masters in Memory of Andy Irons.
Medina made history in 2014 as the first Brasilian to ever win a World Surfing Title and now cements himself in the history books with a second crown.
"All my heroes have won this contest," Medina said. "I'm stoked to be a part of everything here. Winning this event is a little different. I really wanted this one, and I worked really hard for this one so I'm so happy. That was a good final. Julian (Wilson) is the toughest competitor to go up against so I'm lucky I got two good waves. He won in a Final against me a few years ago and I got this one, so it feels good. I really appreciate everyone that came down to watch and I'm stoked to put on such a great show. I'm so happy to be part of history - I've put in a lot of work."
Medina's road to the Title in 2018 was bumpy at the start but the Brasilian switched gears mid-season and claimed back-to-back wins in Tahiti and the inaugural Surf Ranch Pro. He continued to impress as one of the most consistent surfers through the European leg with two equal-third places and arrived in Hawaii with a 4,740-point lead over Julian Wilson (AUS). The rest is history as Medina took out Wilson in the Final to claim his second WSL Title.
"It's hard to believe, this year was a long and intense year," Medina continued. "Everyone put in a lot of hard work and this is the day. I'm so happy and thankful. To have the opportunity to travel the world with family and friends and to do what I love... it's the most fun job in the whole world. This is such a special day for me and I'm so happy to do it again. Julian and I always have great battles. He's always pushing the limits, and Filipe (Toledo) too - he's a great surfer who had a great year. I love to watch them surfing and I'm a big fan of both of them. I'm so happy to get this trophy again. I had to put in a lot of work to get here. I like to surf when there is pressure and I think that's when I do my best. After Jeffreys Bay (South Africa) I just put a bit more of me into each surf and each training. At the beginning of the year it all felt so far away but after Europe, it felt much closer."
11x World Champion, Kelly Slater To Compete in 2019
In the second Semifinal, the battle between Wilson and 11x World Champion Slater happened mostly on the rights of Backdoor and the Australian managed to fence off the all-time greatest surfer at Pipe (Slater won the event 7 times) to advance into the Final against newly crowned World Champion Medina. Kelly Slater (USA) was sidelined for most of the season by a foot injury sustained last year at J-Bay but finished today with an Equal third place result.
"Even though it had a lot of north in the swell, there are some really really good waves," Slater said. "It's been a fun day and yesterday was a blast. I'm pretty excited to come back to competing full-time next year because I had almost a year and a half off, to kind of recharge the batteries and get excited again. I watched all the guys, saw where the level is at, worked on my equipment, worked on my body and got back in good shape."
Team FCS - First Top Three Surfers
#1 Gabriel Medina
#2 Julian Wilson
#3 Filipe Toledo
At the completion of the 2018 WSL season, 79 WSL World Championship Tour events, and 14 WSL World Titles, have now been won by surfers riding the FCS II system and fins.
Congratulations to Team FCS!