Julian Wilson Wins 2018 Quiksilver Pro France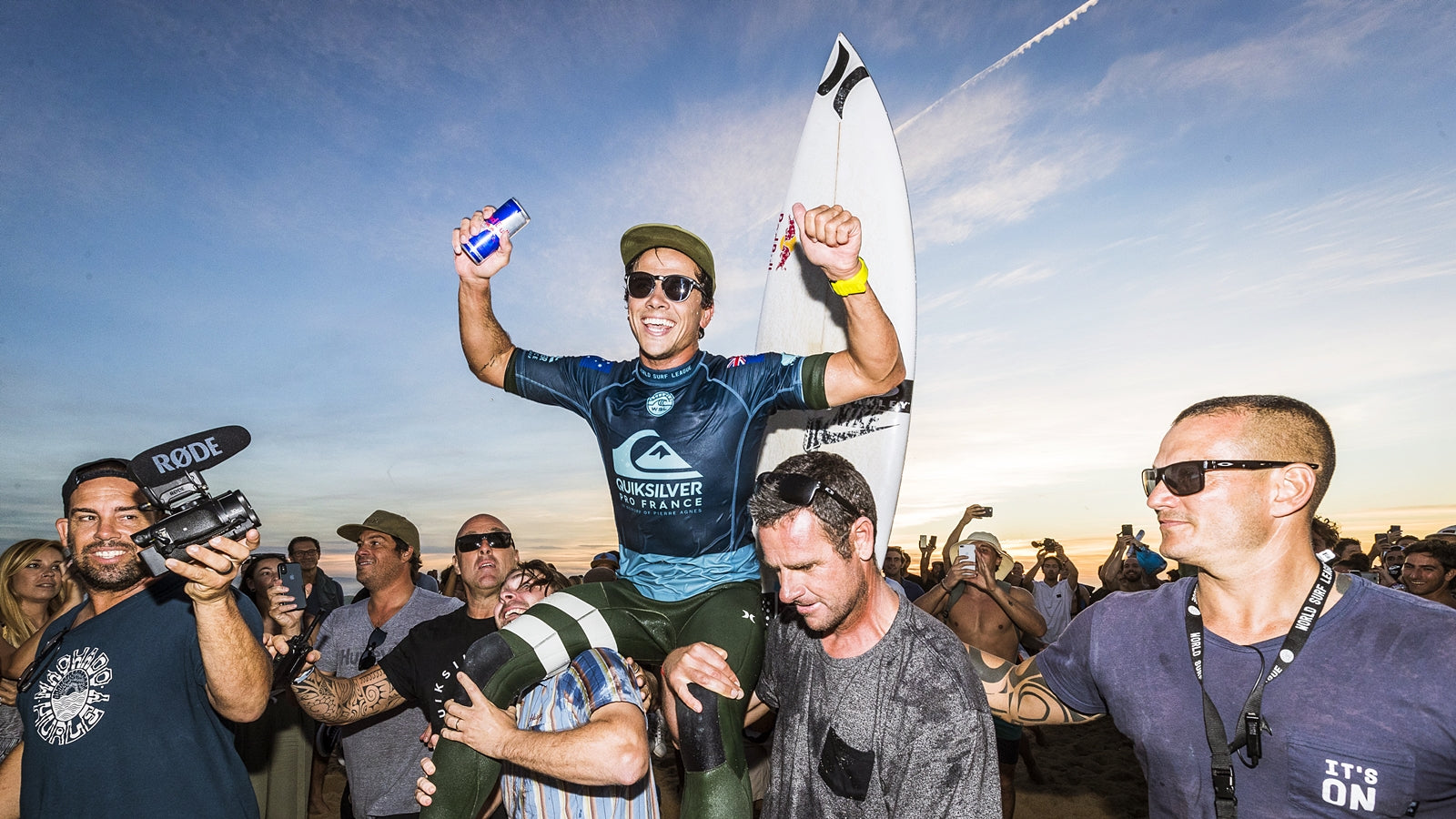 Julian Wilson (AUS) has taken out the 2018 Quiksilver Pro France, Stop No. 9 of the World Surf League (WSL) Championship Tour (CT). The final day of competition witnessed Wilson plow through a stacked field to earn his momentous win at the 17th running of the iconic French event.
Wilson's victory in France is his second of the season after the Quiksilver Pro Gold Coast earlier this year. Only a month before the 2018 season opener on the Gold Coast, Wilson suffered a serious shoulder injury and it was unclear whether he would be able to compete. The win today proves his determination and the fact that the 29-year-old is not giving up his hopes for a maiden World Title. Wilson now strengthens his third place position with only 4,645 points separating him and World No. 1 Gabriel Medina (BRA).
"My emotions come from dedicating this win to Pierre Agnes," Wilson said. "He was such a beautiful human being. Thank you, Pierre. All the surfers love you. The moment of silence before the Final shook me, everything he's done for surfing here in France and I've always dreamt of winning this event."
The 2018 WSL Title race previously heated up in the men's second Semifinal as Medina and Wilson fought it out for a place in the Final. The 30-minute heat was an unbelievable exchange of aerial mastery between two of the most progressive surfers on the planet. Wilson launched and landed a crazy inverted backhand rotation to post the event's first Perfect 10 point ride and defended it with a good 6.67 for the win. Medina fought back with a great wave on which he performed two airs, a straight air with a grab first and a forehand rotation to finish it, but the score came in as a 7.77, short of the 9.01 required score to turn the heat.
Wilson's incredible performance deprived the 2014 World Champion of a shot at a third straight event win in France and put a stop to his incredible streak on the Championship Tour lately. The 3rd place finish now vaults Medina to first on the leaderboard and he will now wear the yellow Jeep Leader Jersey at the upcoming MEO Rip Curl Pro Portugal.
2018 WSL Men's CT Jeep Leaderboard (After Quiksilver Pro France):
1 - Gabriel Medina (BRA) 51,770 pts
2 - Filipe Toledo (BRA) 51,450 pts
3 - Julian Wilson (AUS) 47,125 pts
4 - Italo Ferreira (BRA) 33,490 pts
5 - Jordy Smith (ZAF) 32,020 pts
Photo © WSL / Poullenot